Transforming Renal Care through Patient-Centric Innovations.
Baxter has been a front-runner in the treatment and management of end-stage kidney disease for over 85 years. Today, our state-of-the-art solutions for both hemodialysis and peritoneal dialysis are transforming global renal care, while our innovative capabilities within AKI are breaking ground in CRRT therapy delivery. It's why you can rely on us to be the type of dedicated partner who understands the challenges you face throughout the continuum of care to meet the individual needs of your patients.
Making Tomorrow Better with Baxter Renal Care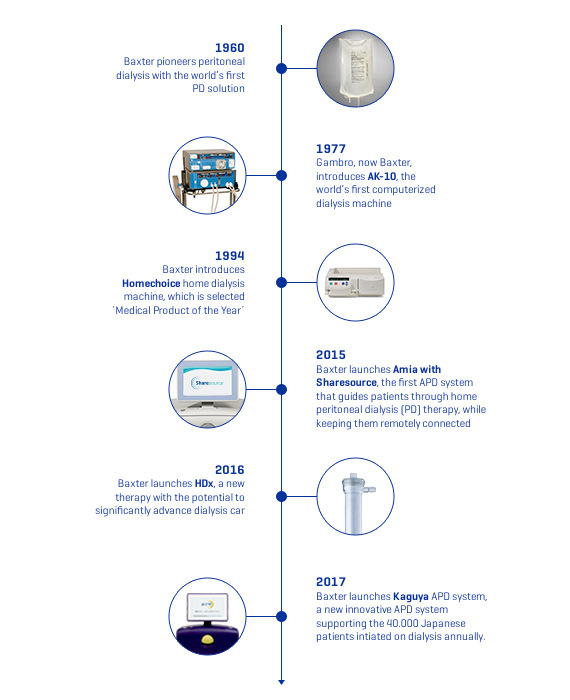 A Long History of Pioneering Renal Care
For more than 85 years, Baxter has supported renal patients and their healthcare providers by inventing solutions that improve outcomes across the continuum of care. In a continued effort to bring renal care to its next horizon, Baxter has championed innovation in both peritoneal dialysis and hemodialysis - most recently with Expanded Hemodialysis (HDx) therapy and remote patient management. At Baxter, we strive not only to improve the quality of life of current end-stage patients, but also to facilitate easier and earlier access to treatment for future patients.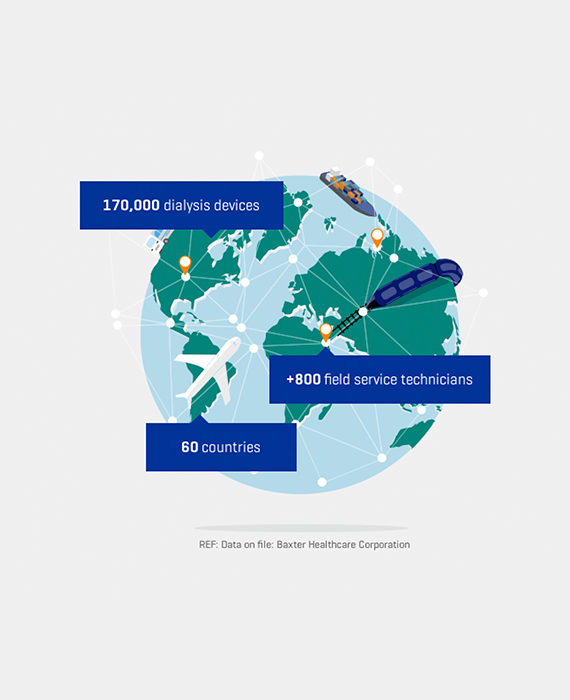 A Trusted Global Partner
At Baxter, we pride ourselves on being a reliable and trustworthy partner to healthcare providers across the globe, supporting you in delivering high quality care to your patients. With worldwide service and support set-ups, we are there for you whenever needed, ready to help you achieve clinical excellence. Our global footprint allows us to share best practices and facilitate knowledge sharing from one region to another.
Renal Care Facts & Figures
1 in 10
10% of the global population suffers from some degree of Chronic Kidney Disease1
6 %
The global Chronic Kidney Disease patient population grows 6% annually2
18 Million
The estimated patient population for stage 4 & 5 Chronic Kidney Disease is 18 million people3
Important Safety Information
For safe and proper use of products mentioned herein, please refer to the appropriate Operators Manual or Instructions for Use.